Hello all my long lost blog readers. Long time no post!
Thanks so much for not de-reading me!

I've been absent due to the planning of my traveling shop!
There's been a bit of a disaster and will take a little longer than expected, but we're hoping it won't be too long! I'm still hecticly planning everything from curtains to signwriting, and trying to keep the website up to date with new stock for you to view in the mean time.
So the blogging side of life has been as they say, 'put on the back burner' until well, my next blog which will hopefully be a big and exciting one saying something along the lines of "YOU'RE INVITED TO MY SHOP OPENING!!!"
In the mean time I do hope you'll join my facebook page for more frequent updates, news and mini posts :)

I do however have one find to show you before I go.

A while ago I showed you my tin toy dolls house made by Mettoy.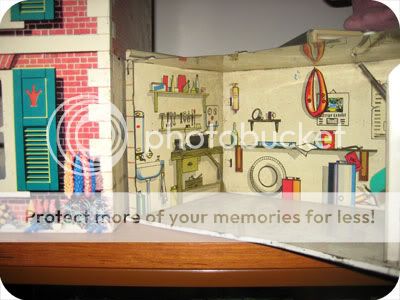 It is still one of my favorite things and brings me so much pleasure to look at!
I couldn't tell you what it is that makes me so happy, as I've never been a doll kind of person, but it just does.

Just the other day I found an accompaniment to it.
It now makes me double as happy.




It's a 1950's tin toy garage!! Aargh!
A perfect home to house my new caravan collecting addiction.
I lovvve it.

Anwyay I'm off to go and pack my car for Camberwell Market tomorrow crack of dawn morning. I hope to see some of your lovely faces there for some donut eating and bargain finding good times!

I'll have a car completely full of 60's/70's collectables and kitchenalia mostly around the $10 mark, so if you aren't too hungover, or snuggled up warm in bed, stop by and say hello :)

Until then, or my next post....
Happy collecting and vintage shopping :)