Hello! I'm back.
My lack of blogging has been due to being in super busy planning mode for the opening of Trish Hunter Finds, however planning has been postponed for now :(
I had been accepted for my dream property, had the lease in my hands ready to sign, and then something happened and unfortunately, I had to call it all off... for now.
But the mission will continue and although it won't be this year, it will be sooner than originally planned :)
In happier news, I now have Boxes and bags and bags and bags and bags of stock that I haven't shown you due to the quantity I've been buying in preparation for the shop.
A lot of it is all boxed up, but I have kept out my favorites for my own enjoyment, and so I thought I'd show you some bits and pieces that Trish Hunter has Found over the past couple of months.
Ok here goes
Always a big lover of the fantastic plastic. Here lies some of my Kartell bits and other plastic bobs
Another corner of junk
There is not a chance I could ever roll this bright green shag pile out in my house if I tried.
It's HUGE!! Bigger than most rugs I've seen. So unfortunately it has to stay rolled up until I move somewhere where I can quickly get it down before I move anything else in.
In this blog post, I've included two things that I can tick off the list of things I've been after for around 4 or so years. It's a reasonably small list and it's getting smaller!
A green or pink Sunbeam Mixmaster has been on that list for so very very long. And finally my time came to get one. My chin hit the floor when I saw it. My boyfriend had to pick it up for me before I tripped over running towards it.
It's in FABULOUS condition, with it's two original matching bowls Ahh!
This is the other item that's been on my weekly search list on eBay, and the reason I often go to the shoe section in opshops to begin with.
An original pair of 60's white Gogo boots.
I do own a 70's/80's pair, but they just aren't the same.
They were 'will do for now' boots, because I'd spent so long looking for the real deal with no luck, I had to have some sort of white boots.
Then just last week....ZING!!!!!! another tick off the list. Oh I wanted to wear them to bed they made me so happy!
This is fabulous. A whole bolt of this fabulous 50's fabric. The photo says enough surely. There is so much here that I worked up a sweat carrying it out of the car. I have no idea what to do with it just yet, but a retro lounge suite would look fabulous upholstered in it. Oooh.
This coffee machine has saved my life.
I've been an International Roast girl since I started drinking coffee last year, and scoffed at the yuppies who 'required' bought espresso coffees...
...And then my Boyfriend got an espresso machine.
Going home to my International Roast was not the same. I preferred going without coffee than drinking that gunk. Yes, I have turned into a Yuppie. But at least a DIY yuppie because I now have MY OWN MACHINE!!!!! Oh I do love it.
I feel all pro when I make that fabulous noise foaming the milk up. Ckkkkckkkkkkk
Ok that's enough. I could skite about it for at least another couple of paragraphs.
And lastly, this tin house by Mettoys with the attached garage.
It's just fabulous to have on display and makes me so happy to look at.
It's in great condition considering it's a dolls house and like most vintage toys, are heavily used.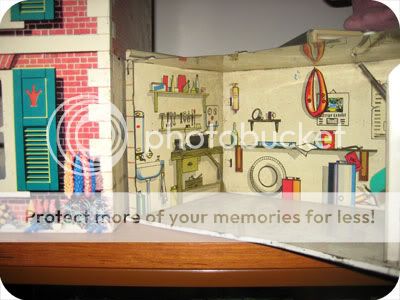 My favorite thing about it is that similarly to the outside being painted as the outside of the house, the insides are painted as the insides. From floor rugs, to paintings, furniture, kitchen accessories etc, everything's there on the walls or floor.
Above is a pic of the inside of the garage.
And that's all for now.
I'm hoping I'll get around to blogging a bit more regularly from now.
Thankyou for all of your lovely emails, comments and for sticking with me while I've been away.
Until next time :)