Today I went and visited Mum who had collected an assortment of goodies for me!
She had also picked up my new, old television that I'd been pretty keen to get my hands on.
I won it off eBay for $25. "$25 too much if you ask me" is something dad always says, yet restrained from saying so this time, but I knew he was thinking it.
He picked me up as it was a very heavy load.
It's a His Masters Voice TV in a brilliant orange!
I've wanted an orange TV for a while now, and have seen them occasionally on eBay but in other states.
I've found a yellow and a red one in op-shops, and they were both asking $40 or $45, and I really wanted orange.
Then finally... An orange one in Frankston. (Close to Mums)
I bid on it the minimum bid and forgot all about it.
A few days later I got an email from eBay saying I'd won something.
I shuddered to think what it was that I'd spontaneously bid on and won, but was pleasantly surprised!
So yep, here's my new orange TV, which looks rather well suited in my 'fantastic plastic' lounge.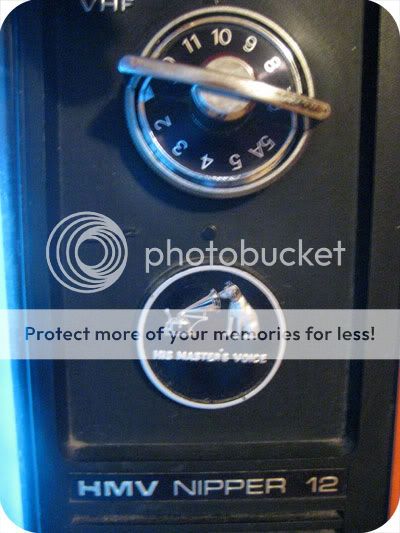 A suitable TV program to be photographed with? Yes.
It's hard to adjust to black and white TV!
I have a feeling I'll be sitting in my 'brown lounge' where my colour tv lives, a lot more often.
Anyway, this is what else I picked up today.
Two willow canisters
I've come so close to buying one of those onion/vegetable cutters from coles so many times. But my whole 'can't justify buying new things' deal has put me off.
I hate chopping onions with a passion, don't we all. So I'm hoping this extra thing that i'll have to wash after I'm done cooking will be worth it!
Pot holder.
Cute ashtray
Pretty pretty doll, with two original shoes, and undies!
I got this collection of posters of vintage cars.
The posters were printed in the 70's.
And lastly this very strange jacket. It's vintage, but doesn't look vintage. It's strange. The fabric is faux leather, and its kind of a sticky rubbery fabric. It fits me perfectly so I'm going to test it out tomorrow. Not sure about it still.
And the following is the goody bag Mum had for me.
Cute worms.
Mum "I did so many loops of that shop looking for the other two scoops"
Trish "There'd only be two mum, teaspoon and tablespoon, you're thinking of cup measures"
Mum "God I didn't even look at the measurements, I just knew there's supposed to be four ducks."
Haha.
An Olympic swatch watch. Apparently Sydney 2000 memorabilia is the collectibles of the future, so keep your eyes peeled for it.
And lastly this cookbook where you fill in your own recipes. I've been thinking of putting something together for a while as whenever I go to think of something to cook, I can only think of about two things. Whereas if I write them all down I'm sure I'd have heaps to cook, and I might actually cook more often.
She also picked me up a pair of frogskins that I forgot to photograph.
And lastly from me, is something I forgot to post the other day.
I got these 6 plastic cups that I am almost certain are bakelite.
I got the lot for 20c so I didn't mind if they weren't.
I've seen that same mottled plastic in my books, and am sure I've seen the cups in there but when I went to look couldn't find them to save myself so now I'm unsure.
And that's all :)
PS: The Michael Jackson lyric change was intentional.
PPS: Quick hello Sam H! I hear you started a blog too!! I want to read yours :)
PPPS: I just felt very highschool, when I wrote PPS.
I remember as many as
PPPPPPPPPS: Hi trish you're lame.
Ok now that's really all.