Ok so this blog is HUGE. I've been meaning to do it for ages but there was so much stuff to photograph that I kept putting it off, and then I'd buy more stuff, and the job would be even bigger, so I'd put it off.... and then today I looked at the ridiculous pile next to my desk and had enough so I'm finally posting!!!
Again I'm way too busy, I'm thankful there's not more hours in the day or I'm sure they'd get filled up too!
Ok here goes. Photo overload time.
So today being my first opshopping day in what feels like ages (besides going to the ones before and after work) I was ready for a big one and boy did I have it.
I was stoaked when I found the following acid wash hat that I couldn't resist putting together an ensemble of acid wash denim and the result is a little bit foul but a ton of fun haha.
That'd be Vest, Pants, Jacket, Bag, and Hat. I considered layering with a matching skirt, but thought it might clash a bit? haha.
Spew? Feel free. I spew at double denim never mind..... er that.
Again with my whole 'I'm so busy wah wah wah' well I haven't even had time to photograph my outfits, so I did a reprise today in the ones I can remember or at least were excited about.
I bought both the dresses last week too!
First was this tie die number which is WOW. The dying is so detailed and amazing. And it has a pocket, and we all love a pocket.
Second is this dress which I bought from savers for a mere $5.99. I didn't know savers priced ANYTHING at $5.99 never mind this gem. I love it and it fits me perfectly.
You'll never guess the maker. You will have come across them in almost every Australian opshop.... Stitches! Mmhm! Stitches made a rad non nanna dress!!
And here come the finds.... Oh this is going to take ages.
In the order my photobucket put them in...
Cute light knit
Mum spotted this dear!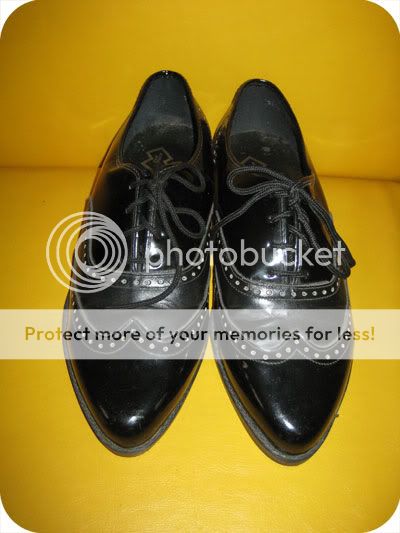 Ooh lah jealous? They're 1 size too big... insoles for me.
YUM!
These two dresses are home made and by the same pattern... These and quite a few other home made dresses including the above tie dye dress were just put on the floor the same time I walked in... The lady thought I was crazy I think.
50's brooch and pretty plastic daisy earings
When buying these pants I actually thought they'd be something
Skye
would wear, so I'll use her as an influence when I'm feeling a bit daring.
This dress is AMAZING. Another by the home made lady and pwoah, the layers, the fabric, the bell sleeves, aargh.
This is also home made, and so amazing on. I feel about 5 years old in it.
Again home made, a 1950's dress.
Close to one of my favorite items is this bed spread! Do I need say why? Prettyyyy.
Mum found this for me for $1. A whole roll of orange flowered wallpaper! Bargain.
Not so much a find, but an eBay 'investment' into my recreation needs.
Told you this was long hey?
Pretty sheep.
Ok yes, I do realise the plaid trend was murdered last winter, but it won't stop me wearing it. I've been a plaid wearer for years and I refuse to let it go.
This is a sweeeeet hoodie, that is exactly my size and its from the 90's I think. There's a whole lot of love going towards this jacket.
Silk Mickey tie. I get all nostalgic with old Mickey Mouse things. I loved the old cartoons, I've only recently rewatched them on Youtube (what would we do without it?) and my gosh they're SO clever and so entertaining! I do recommend a rewatch.
These glasses caught my eye as soon as I walked in. Every time Dad visits my house there is a crack made about my crappy glasses. (see below)
He will either ask for 5 glasses of water, or say could I please have a 'straw' of water. They hold nothing I know, but they're very pretty.
Well at least now I have glasses that he won't complain about and are still pretty.
Another find Mum found. Flower power table cloth! Oh I can't wait to free up my dining room table. (It's currently my desk)
Check out these torture pants. Discoooooo. Gosh you'd get so sweaty in these. However they are gold and fantastic so definately worth the buy.
This suit cost me a bit (well in comparison to my usual under $5 or $10 buys)but I had to have it. It fits me, and the colours and the work gone into it is incredible. It's such an 80's power suit, I love it.
My god did I buy anything not home made? Whoever wore this prom dress in the 80's must have felt a million dollars. It's amazing.
I used to have maybe 40 prom dresses from the 80's. I really do love them. They're just so bad taste. However storage became a big problem and I had to cull. So now I just keep/buy the strange ones.
Lastly... YES LASTLY!!! The last thing Mum bought for me. This 1950's dressing table chair. Oh I love it. I love everything don't I? Well I really love this. I see them sometimes but never with the back on it, and rarely in such good condition. It suits my room completely! Yey.
I'm DONE!! :):)
Now I have 51 blog lovin's to catch up on! Aargh
Dinner first.
Have a lovely night if you're not already asleep!