Monday's and Tuesdays are my weekends! Which I enjoy because banks and post offices are open so I can get out and get things done.
This weekend, I payed some bills, and went opshopping on Chapel Street. I found nothing to my liking, well I did, but I'm not prepared to pay in excess of $15 for something remotely retro and often drab.
I did enjoy the day though, I met up with my friend Nikki who took me to Mistys Diner for a 50's feast. And boy did I feast. I was so close to falling into a food coma after over eating curly fries.
CURLY FRIES!!! Hot chips are my favorite food in the world, horrible and naughty I know, but oh I love a chip. So when I was offered CURLY fries how could I say no?
This was our feast.
I then met up with other friends in Fitzroy to watch the whole new world of buck hunter. It was a fascinating ritual to observe.
This is what I wore.
It's the dress and vest I bought at market on Sunday. Febreeze is a life saver!
And since I bought nothing, I'll show you something else my Mum gave me on Sunday that I found at the bottom of my bag yesterday.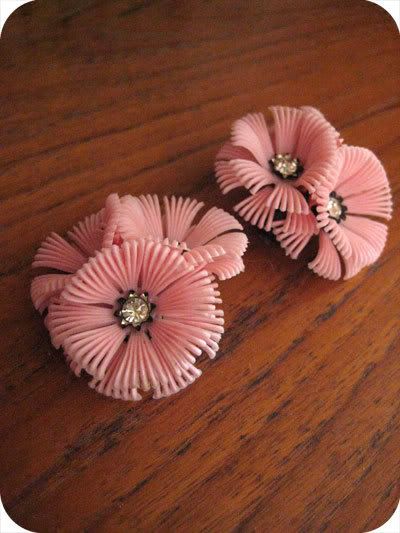 It's a pair of celluloid (I think) earrings, they're very old judging by the clips, and are really quite elegant if you dismiss the 80's bulky vibe they have.
I also just got 'Twitter'
I'm not really sure about it all. Having yet another webpage to remember a password for makes it less appealing, but I've been convinced it's good so I'm going to try to keep it going.
You can 'follow' me by clicking the thingy on the right. Do you have Twitter? Link me :)
I'm off to enjoy the rest of my weekend. I have to post some shoes, pay some credit card ugh, and then spend some credit card :)
This wind is scary.