Wow.
What a tragedy.
So many people have been affected, and I am just a small dot amongst them.
My family moved to Marysville in 1992 when I just started grade 2.
If you haven't been there, all I can say is that it was the perfect place to bring up kids, it was beautiful, fresh air, clean water, and freedom.
I went to Marysville primary school, I think there were around 12 people in our grade 6. A very small town.
My best friend was Clare, we did everything together. Everything I did in the 12 years I lived there usually involved her.
Next door to our house was 'the haunted house' an abandoned burned out wreck full of graffiti, missing floor, broken bottles, and ghosts of course! At one of my birthday's I took everyone into the house and we saw a body behind one of the ripped up couches. Two legs sticking out. We freaked out and made Clare go back and have a look, we all followed close behind. It turned out to be a dummy that the fire brigade used to practice fire rescues. It was very funny.
I had my first kiss outside Marysville pool (It was disgusting and had NO idea what everyone was going on about)
My sister and I ran a beading business at the local market called bod bits, we'd sell hand made jewellery and do wraps in other childrens hair. It was always and forever all about making money in Marysville
Clare and I had a dog walking business where we charged $3 per hour, we invented a secret club called living fossil where we'd have regular meetings to bring up money making schemes. Pet rocks was a brilliant copycat invention. We imagined being rich.
Probably too often after school Clare and I would walk to the payphone, prank the fish and chip shop to see if they decided to open that day, and if so, we'd walk up the hill to order... (lazy?)
"could we please have a really really big lot of $1.50 chips, and two extra extra thick vanilla thick shakes please?"
We hated it when Rebecca worked because she made them too runny.
I'm so so lucky I have such strong and happy memories there. We did so many funny things, and my mind is just on overload remembering and trying to pick all the details.
I've always been a very personal person, always took way too many photos, always had a diary, and always dreamed of filling it. I love telling stories of my past and love remembering so you'll continue to hear of my adventures in Marysville for a long time to come.
On Saturday the 7th of Feburary 2009, the place where I, and hundreds of others hold so many memories was completely wiped out. Fire burned down all but a few buildings in the whole town.
The house that I was brought up in until I moved to Melbourne after year 12 is most likely gone.
Dad hasn't been back to check, but he last heard that nothing was left standing on Hill Avenue.
My darling beloved dog Lucy was there at the time and oh how I miss her.
My Dad didn't get to save anything as he was out fighting the fires as a volunteer CFA firefighter. What hero's.
His whole life was there. He ran his business from home, he treasured everything he owned.
So much is irreplaceable, His Dad and Grandpa's war medals, all of our photos, and most of all the house.
When we moved there we planned the renovation, Dad turned this lovely little 2 bedroom cottage into a two story picture perfect house. Only a few months ago he finally finished the kitchen. All he has is his fire uniform that he's wearing and oh my gosh my tears are mostly for him. He's lost close friends, his community, and all of his history. I'm so worried. He is okay though, he spent the night on Gallipoly Park Oval in Marysvilles centre, as he watched everything around him fall apart. I can't imagine what he must have seen and the fear he would have had.
The thing that I value the most was there and is now lost. It was called my 'special bag' Paul Jennings (My at the time favorite author) told me to make a time capsule only to be opened when I turn 21.
In it was all my diaries, love letters, signed school dresses, report cards, school photos, my hand print from when I was a baby, My favorite book as a child 'Peepo' and a lot of stuff that if anyone else were to find would be meaningless, a stick that I kept from primary school that we used to 'fetch' when Clare and I were playing dogs, a keyring in the shape of a duck made of pink crystalized plastic that Bradley Mcleod (Big crush in Prep) gave me for my birthday, and a lot of stuff that I have no idea what it is or why I kept it, but it was important at the time.
Everyone has been so lovely, people I haven't spoken to in years have been calling to see if I'm okay, family who I miss so much and have lost contact with have found my number and didn't even know I had left the town. People I don't even know, who have seen that I have lost have given me their sympathies. Friends offering to donate clothing to the community, creating funds to send to the people who have lost loved ones.
The death toll for my small town is up to 19, and will probably keep climbing. 19 people I quite possibly could know. I dread to hear names.
If anyone would like to contribute in some way please do, there are so many hundreds of people who are now homeless, and I hope you can help.
To donate to the Red Cross State Government Victorian Bushfire Appeal Fund:
* Visit www.redcross.org.au
* Phone 1800 811 700
* Any NAB, ANZ, Westpac or Commonwealth Bank branch
* Any Bunnings store
* By direct deposit to the Victorian Bushfire Relief Fund - BSB 082-001, Account number 860-046-797
Myer Bushfire Appeal
* All proceeds to the Salvation Army. Donate at any Victorian Myer store

http://media.theaustralian.com.au/multimedia/2009/02/08-ferguson/index.html

I have been watching this video, and I recognize one place. I know that town like the back of my hand and I can only recognize one place. Oh its so sad.
http://www.abc.net.au/news/video/2009/02/08/2485362.htm
That is a short video containing the video from a helicopter driving over the town.
I don't even know how to feel when I see it.
Here are some of my photos that I thankfully stole from home years ago.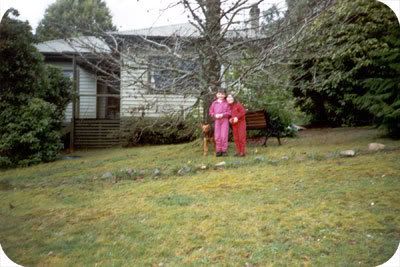 My sister, our dog Jessie and I in front of our house before we started renovating.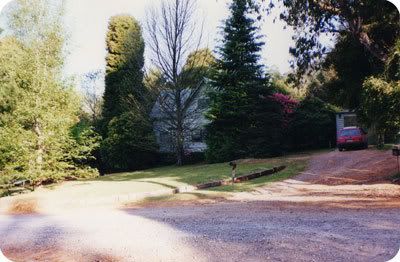 The house we will remember forever.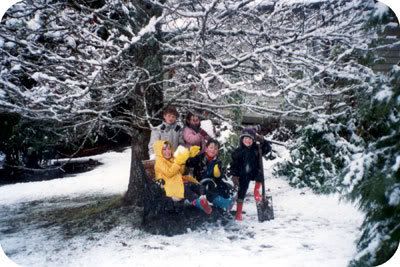 At least once a year in snow season snow would cover our yard. We used to hope it would get so thick we wouldn't have to go to school. That happened once, what a good day that was.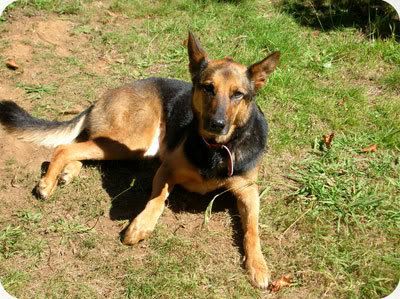 This is my beautiful dog Lucy. The smartest dog I have ever met.
She knew everything.
We'd have to spell out words and even then she started to learn them.
'Get the ball' 'Get around the back' dad would say 'go shit' and she'd go, 'upstairs' 'in the car' 'Get back' she'd take two steps back, etc.
She'd do what she was told, she loved my Dad more than anyone else and looked up to him so much. Of a night time she would come and sit in front of him and just stare. She was so elegant, protective, dedicated, loving, playful, smart and beautiful. I miss her so much.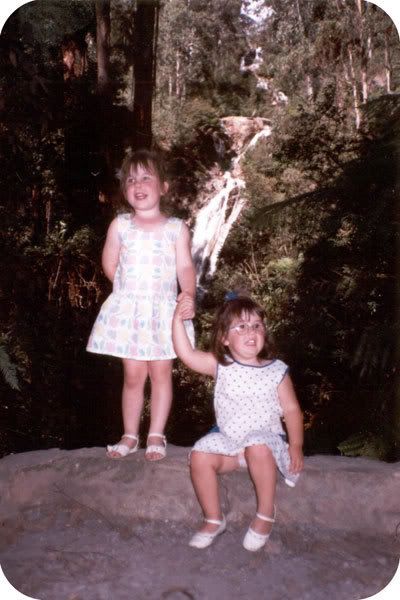 A place highly recognized. Stevensons falls, one of the main attractions of Marysville that people will remember.
Thanks for reading, and for caring.
My heart goes out to the families who have lost their loved ones. I can't even imagine.
xx