Hello!
I've opened up notepad so many times to attempt to write an update and a reply to all of your lovely words but I'm so over the whole thing that I've been putting it off until now.
The messages/comments I've had in reply to my previous blog have been overwhelming. It really is an example of how in terrible situations, people from all walks of life, from all over the world, get together and really care. I haven't met most of you, who have sent their love, blessings, and so many hugs, yet they still each and every one made me feel that little bit better so thank you all so much.
I am okay, and my family are okay. Dad is surprisingly okay with it all, more so than us kids, but in the end, he just wants to go home and keeps forgetting that he can't. The house is confirmed as gone, well not completely, there are stumps left haha.
Sometimes I think I'm not as sad as I should be, and other times I feel guilty for feeling sad. It's weird. The best word to describe the whole thing is weird. It's just a situation that I haven't properly got into my head yet, and when I'm told facts, it just sounds so foreign, weird, and unreal.
I don't want to go back and see it, even if it does make it real.
My Brother is aching to, but I just can't imagine seeing it. It'll be the time that I crack and I don't want to be all attention seeky, crying over a house when neighbours have lost lives. So I don't think I'll go back.
I don't know really what else to say about it all, I've talked about it to so many people, so many times, so really I just want to get back to 'normal' so here comes a normalish post.
Here are some of the things I've bought.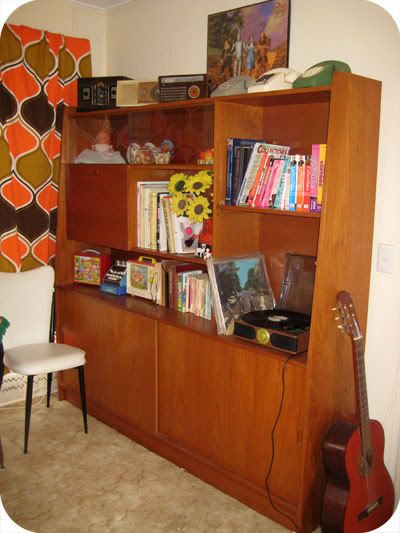 I've been lurking eBay for wall units for a while and haven't found the right one at the right price. A couple I have bid on, I put my max bid on, and lost. Then I found this one and assuming i'd be outbid on it too, put my max bid on, and it went for $26. It's exactly what I wanted and I feel so mature for having a proper piece of furniture.
I've never owned scales, they're what makes crappy days, however when I found this orange pair for less than $1, I couldn't go past it. I have trouble 70's-ing my bathroom so this was a good step.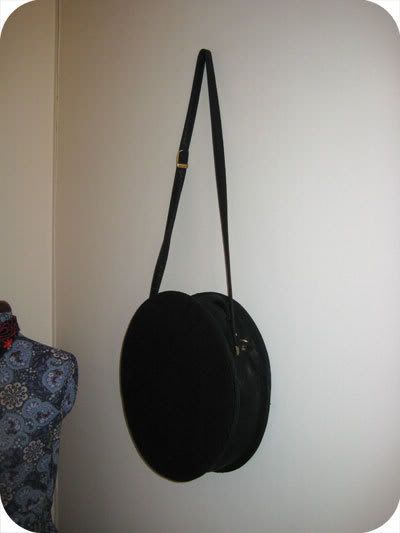 I've vented before about my lack of ability to find good black bags and good tan shoes.
I have an abundance of black shoes, and tan bags, and find it very hard to match them as I lack in matching bag or shoe form. I'm never one to settle, so I've been black bagless for ages UNTIL NOW. I found the dream bag. It's different, and isn't covered in gold clasps or gross decorations. Happy.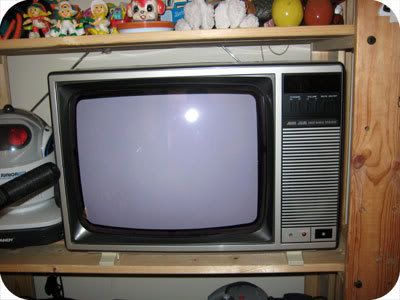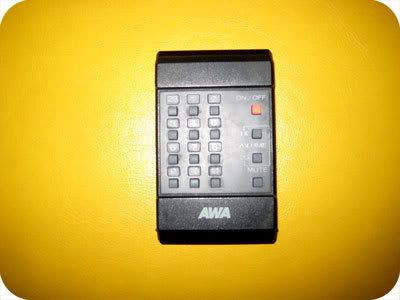 My little oppy doesn't do electricals, so when I saw this sitting out the front, I left a note on it saying that if they chuck it, to give it to me, and they were more than happy to.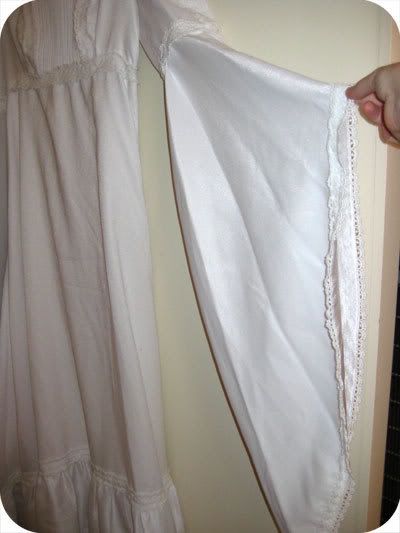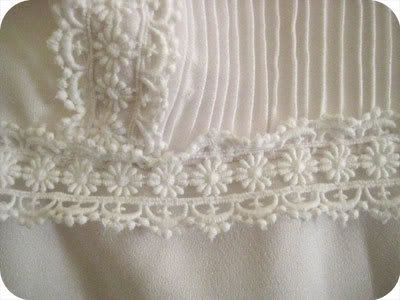 Another thing my opshop gave to me was this hippy wedding dress. I love everything about it, as soon as it came in I was all over it and wanted it so badly, the sleeves, the train, the daisy decorations. It was $40 and they offered to sell it to me for $2o because I spend so much there.
I still couldn't justify it. It would just be another thing to store, and I didn't have a ton of money for a while there, so I just said no and visited it each day.
Every day I'd go in, another opshop lady would run over to it and say 'Trish this looks like you!'
They know me so well. I still turned it down, anyway after the fire the manager had to send old stock back and instead of sending it back, she gave it to me as her little bit of love. I still haven't seen her to say thankyou, but it was a lovely gesture.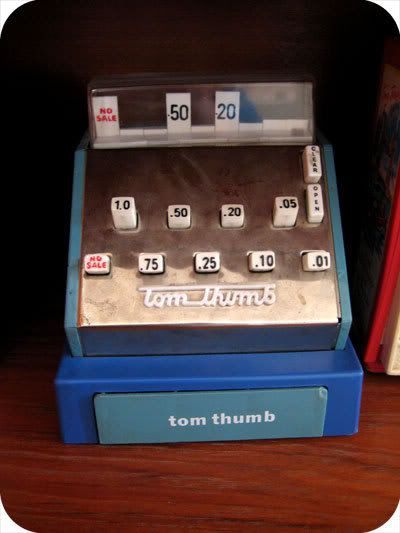 Only days before I got this, I was on eBay looking them up. I wanted one for when I have my shop to sit on the counter instead of a real register. (thinking way into the future I know, but when I get an idea....) anyway then I found this at my local one. It's so cute and still dings.
Mum gave me this little red riding hood and raccoon, she's so pretty.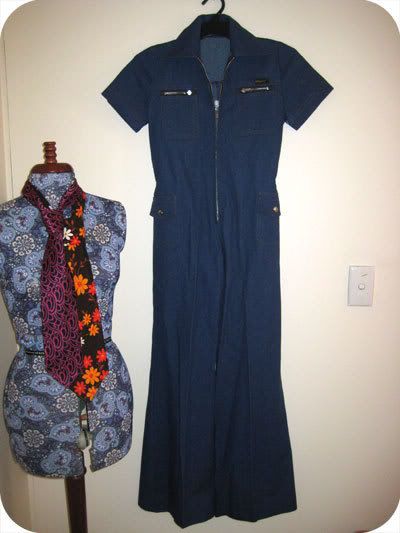 I bought two of these yesterday, denim jumpsuits from the 70's. Massive flares that you can't really see, and they're just fabulous. Too small crotch to shoulders for me though, so they must be pretty little.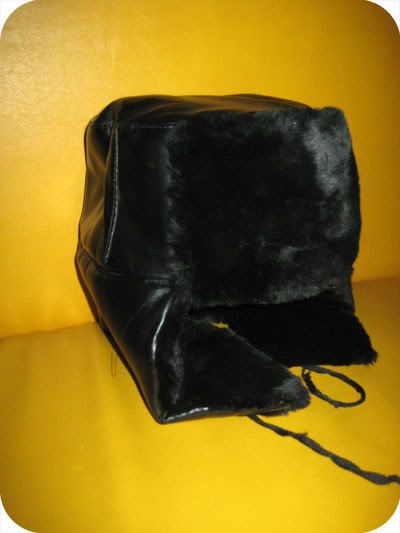 Lastly is a hat I searched for all last winter. I found one :)
And here is some of my outfits from a week or so ago.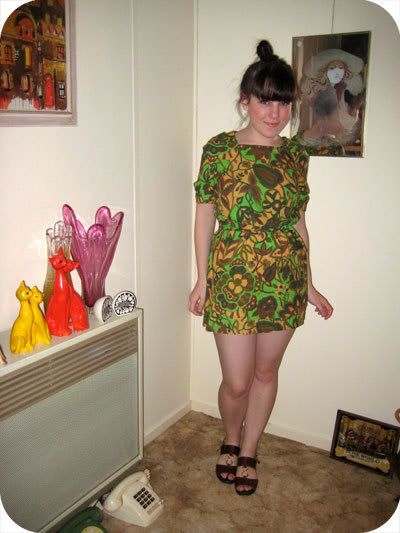 My most worn T-shirt. It was an XXL so I cut and hand stitched it in year 12 to fit. It's still barely held together, so I can only wear it on occasions. Still my favorite tshirt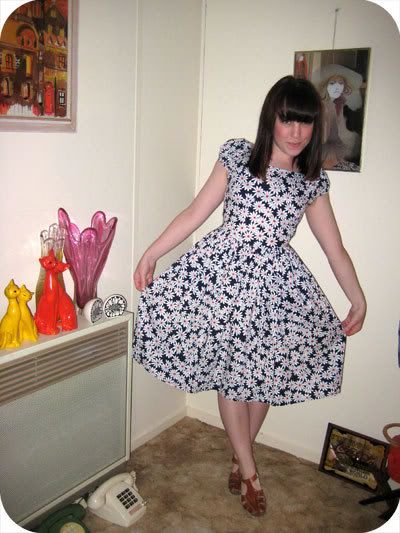 Again thankyou a million times for all of your messages, and offerings to help, and for those who donated, helped, supported,
crafted
and everything else. It's all valued.
Also a big thanks to Harvey Norman who knocked $160 off the price of the photo books I've been putting together to give to the family. That's a big deal to me and helped lots.