I would like to share with you one of my favorite things.
I love my walk to the train station each morning because I get to pass it.
It would have to be my favorite tree.
It never fails in making me smile.
A few days ago I actually smiled at it, like a 'hello' smile.
You know, the smile you do instead of a wave?
I laughed at myself.
It's turning into a real person.
So therefore I'd like to introduce you.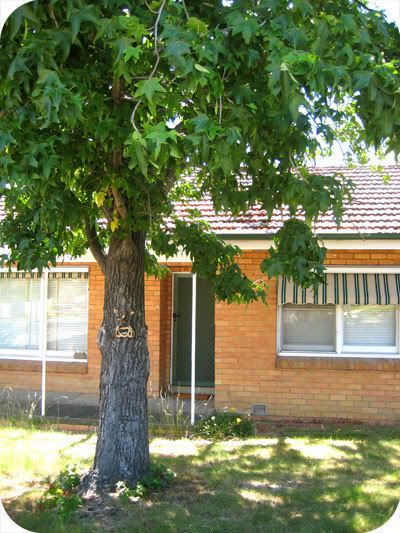 Now take a closer look...
Isn't he fantastic? It's so subtle, I wonder how many times I've passed it without noticing.
It's been done so well too! It's completely 3d, but it blends in completely with the tree, its really real!! Maybe I'm a bit too excited about a tree, but I don't know... It's just so clever.
I imagine him to start picking up apples and throwing them at me. Haha.
It reminded me of one of my favorite conceptual artist 'David Shringley's' pieces.
I have it in a frame somewhere.
I love so many of his photos. I have printed out so many.
Anyway....
So today I met up with a friend, and bless his tired feet, I dragged him to what he thinks is 13 book shops looking for one book. (It so wasn't 13)
The book is sold out everywhere! Carters Everything Vintage 2008 edition.
I've ordered 2006 and 2007, they're all available, I own 2009, but 2008 isn't even available from the publishers. So the hunt began.
Along the supposed 13 book shops, I picked up a few other things too.
I'm a very lucky girl. I spoiled myself with 'new items' which is something I rarely do so I'm not feeling too guilty.
This is what I bought.
Collectors magazines editions 3 & 4. Very pleased. It's my favorite show, and so far, a pretty good mag!
Like I give a frock is a book that I pick up and skim through every time I am early for work in St Kilda. I stroll down to the book shop and nearly buy it every time. Well this time I did and I'm glad. Its a great book.
And last but not least, in the book shop that we continuously passed thinking it wasn't a real book shop and would be hugely unlikely to have anything like it...
Yet again we passed it, on the way to the train station so figured we might as well look.... and what do you know!
THERE WERE 2 COPIES!!! zing!
Trish will have the whole set :)
Very pleased.
I also picked up this crocheted crop top singlety item. It's a little worse for wear so I'll give it some love and hope it turns out okay. I can't crochet (Trust me I've tried. I've even sat and watched youtube videos with a ball of wool and a hook in hand whilst wearing a screwed up nose and dropping some 'Whaaaaat?'s'. My boss too has also tried to teach me but all I can manage is a chain) so I just have to pick up what I can.
It'll look fab with a pair of high waisted shorts! :)
And that was my day.
I'm exhausted, so its bed time for me :)