Hello!
Guess what? I won a prize!
I never win anything.
Well that's a lie.
In prep, I won an Easter egg for having one of the best Easter bonnets in the Easter Parade
I searched high and low for a photo to show you, and the best one I could find was this one...
I remember that day so clearly, it was a blue foiled egg which was maybe 15cm high, and I had to walk onto the stage to collect it, and everyone clapped :)
Thanks to
Fashion Hayley
and
Polkadot Rabbit
I am to expect some special goodies in the post :) I'll show you once they arrive.
Whilst going through my childhood photos, I noticed a continuously repeated factor in all of them. I never ever had a straight fringe. Ever!
I'm fairly sure my parents cut this one for me before school photos, but even when I had my hair done by hair dressers, they never took notice of my cow lick, and just snipped right across.
Leaving a fringe no better than the one my parents cut.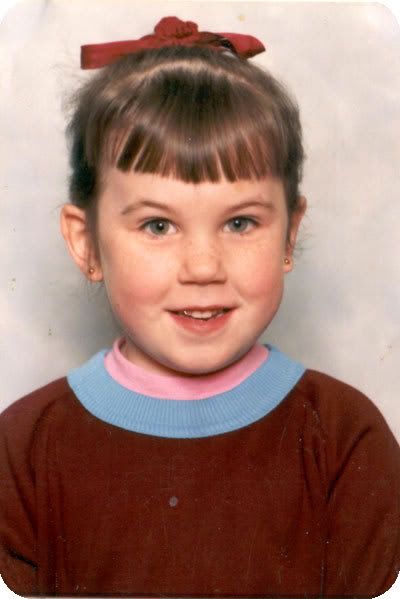 Still to this day, I can't manage to have a straight fringe. I blow wave it every morning, but it still continues to rise through the day.
So today I just went to my locals, and then to Savers.
Today I'm playing house wife and cleaning the house thoroughly. However I couldn't have a day of cleaning without a little fun so off I went.
This is what I wore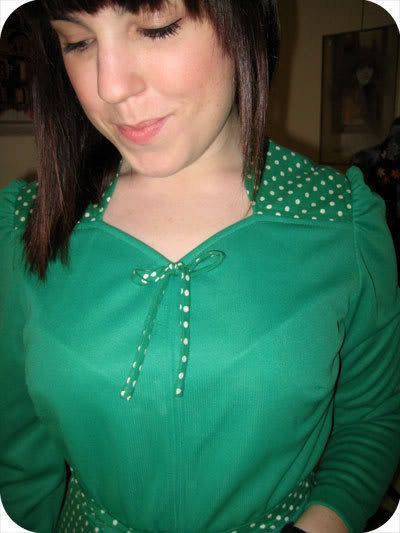 I bought this last year some time, and was never a big fan, but that changed the other day when I tried it on for the first time (I never try things on before I buy them unless they're pricey) And I fell in love with it. So today I stepped out in my bright green polka-dot number.
I'm now a big fan.
I picked up a few nice things.
At my favorite local, I picked up another one of these cookie jars. The one on the left is the new one. This one appears in one of my guides estimated at under $35 I think. And they're both rather different. So I'm wondering if my other one, who is sort of more 'uncute' is any more or less valuable. There are quite a few differences including the wording on the new one which reads 'thou shalt count thy calories'
One of the ladies comes up to me for a chat as she often does and says 'You're the Thursday girl aren't you.' I love the people who work there. The Man who works there on Wednesdays loves when I come in. He claims I'm the spitting image of his first love, and we always have a good chat.
Anyway, the lady who knows me as the Thursday girl was intrigued that I was buying the cookie jar and went on to tell me about her S&P shakers, sugar bowl and more that she has in the same style, (which would quite possibly be by Goebel and be quite valuable) and she said that she'll keep them for me when she next does a clean out. Thankyou Thursday lady!
Anyway then I picked up these from Savers.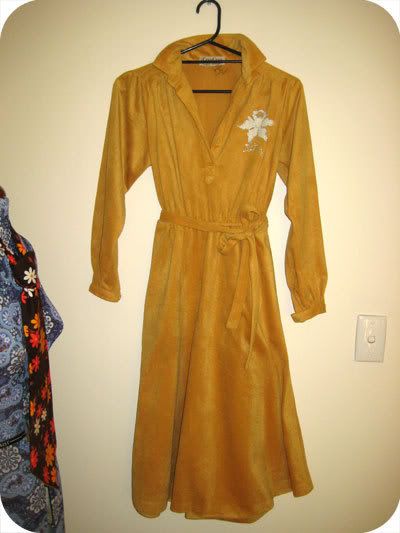 I'm such a lover of all things Mustard. Most people think it's wrong, unflattering and just kacky, but I am always attracted to it. So couldn't say no to this dress. And it has applique, I mean hello!
I am, and always will be on the search for the perfect Sound of Music dress.
The one that she wears when the Captain and Maria sing the 'something good' oh ever so romantic number. I love everything about that movie and when I saw this dress, I immediately knew it was so close to my ideal Sound of Music dress. It's not perfect, but I couldn't leave it.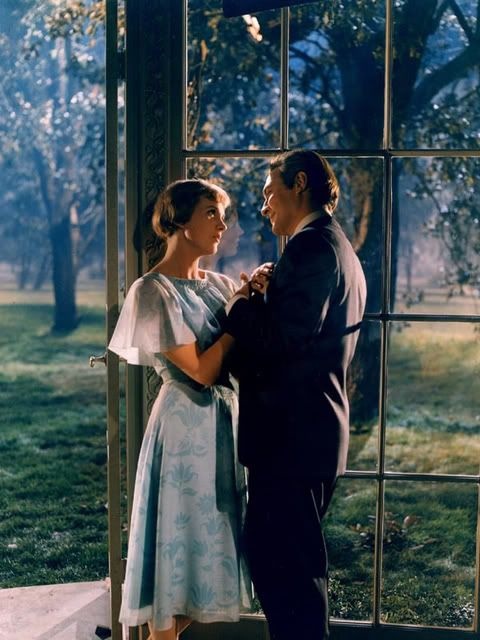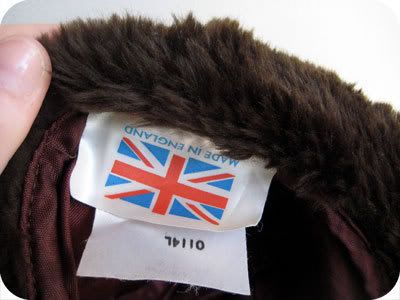 And just what I don't need, another faux fur hat..... in Summer. But I'm a sucker for a good tag, and for $1.99 it was mine.
Then I came home and got into my comfies.
Thought I might share with you what you might stumble across if you knock on my door without warning haha
Reow.
I live in daggy shorts and tee's when I'm bumming. So so comfy.