Hihi!
Today I was determined to do absolutely NOTHING.
I was beyond excited about waking up with the idea in my head that I wasn't even going to get out of my pajamas.
I tried so so hard to relax, but when you're generally a busy lady, and finally get time to chill out, it's really hard to do nothing. It feels alien.
It is harder to do nothing, than to do something.
So I decided to go to two of my favorite opshops that I never get to go to because they're only open on days that I work. However I'm on holidays from one of my jobs, so I can finally go!
This is what I wore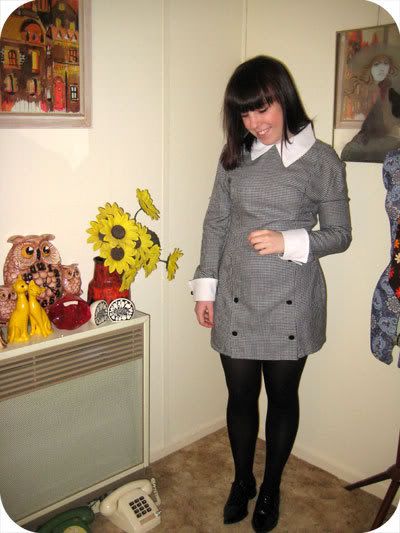 So I walk to the station, just miss a train, wait wait wait, get on the train, arrive at the destination and hooray. They're closed till the 21st January. Fantastic.
I assumed they must be open since the whole of Frankston was.... wrong. The northern suburbs volunteers are taking all the time off that they can get.
So I reverted to my on again off again relationship with Savers and picked up
This 80's cotton skirt that falls right at my knee! I love it. It's home made and fully pleated. Mmm
Tie dye is all over Melbourne like a rash at the moment which has put me off a little, but as a fan from way back I couldn't just ditch one of my fav trends and leave it there. It'll be nice and cool when summer comes.
Then I went to my little local opshop which is thankfully open, and bought
Lacey cotton blend tee.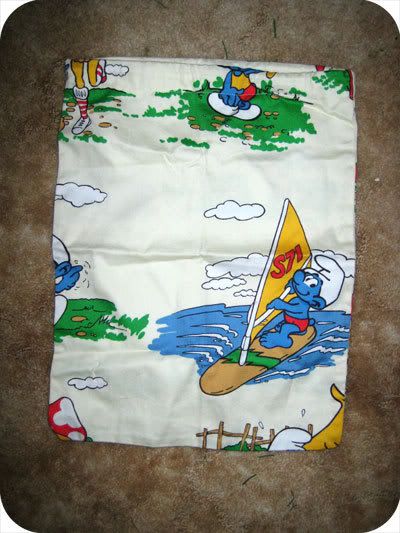 And last of all, a Smurf tote bag.
A couple of days ago I did a $60+ food shop, and tonight, as I raided the pantry assuming I could rummage up something fabulous, I stared blankly at it, thinking... 'what exactly did I buy?' There was nothing in there!
I opened the fridge, and then the freezer and had the exact same response!
What did I buy? I have nothing to eat and I'm $60 poorer.
I thought I shopped so well.
Ah well. Back to coles tomorrow!