I popped into Savers after work today.
Picked up a couple of things. Since their pricing changed I haven't been going so often.
I liked a few dresses, (just liked) but they were between $25-$35, and just not worth the money.
Sometimes even though somethings 'vintage', it shouldn't call for an instant price hike. Most opshops do it, and it drives me mad. Not because I'm stingy, but because they just aren't worth the money!
The pattern, fabric, size, colours and desirability also has to be taken into consideration when pricing, not just the fact its vintage.
There is a size 16 baby blue striped dress from the 60's thats been at Savers for quite a while, Its about $25 I think, and even though it has that old tag, it just isn't desirable. It doesn't scream retro in comparison to a flower power dress that I would be more happy to pay that amount for.
And once you pay for dry-cleaning, mend any tears, hems etc, it just isn't worth it.
I'd rather pay double the price for double the quality at a vintage store, know it's perfect and its not just a dress I'd like, but a dress I'd LOVE.
It annoys me because when they're priced like that, they don't get bought and after a certain period of time, they get sold to rag dealers who ship them off to third world countries. Or in some cases, just thrown out. Whereas if it was the price it was actually worth, Someone; if not me, would consider buying it, even though it is a bit boring/drab.
Similarly to opshops that see 'made in england' and put it in the special cabinet for a stupid price. Made in England, doesn't always mean its valuable. It means its made in England, and COULD be worth something, like anything really.
No name items that are visually appealing, will usually fetch more/sell quicker than ugly things by a good brand.
I should add, I'm not just thinking about my tastes. Just because I don't think somethings desirable, I don't assume everyone thinks so. I have a reasonably good idea about what's worth what.
I also don't just buy items for myself. I collect vintage clothes, not just wear them, so I buy things that appeal to everyone, not just myself. Yep :)
Well that's my vent about opshop pricing.
This is what I bought today.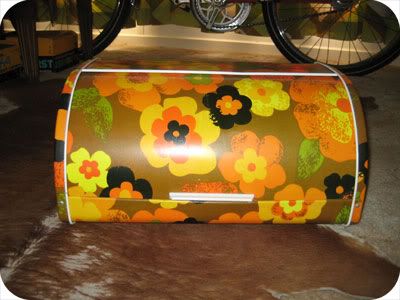 A bread box. An older lady saw me holding it and with her nose turned up said "Do you like that do you?"
I replied "Haha yep, and i'm supposing you hate it huh?"
And we had a good chat about how ugly she thinks it all is and how much I love it.
It was funny to think about, because I can imagine me in opshops when I'm older, seeing people my age picking up 'retro' navy and bottle green sofa beds that you see on the side of the road, and finding an old computer monitor and thinking 'oh my god how coooool!'
Well I guess items from this era WILL be rare and valuable, because nothings made to last. Everything falls apart. Haha.
See my pretty new angel? Thanks Ray :)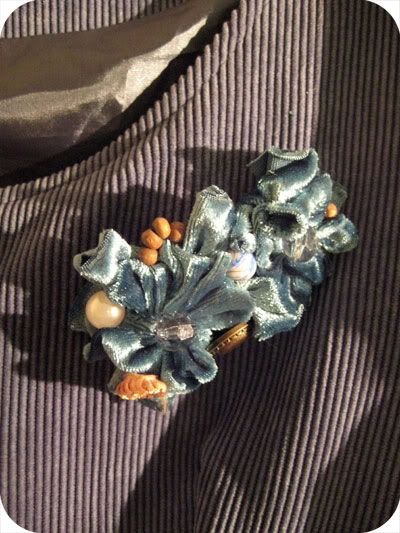 This dress is so cute. It has an attached brooch, and a big bow at the back.
I love it. I think I'll wear it on my first day of my new job :)