There has been this vintage nighty floating about amongst piles and piles of 'to alter/fix/not sure what to do with' costumes at work.
I've been wanting it for so long as I had great visions for it.
However everything is always useful at work, weather we can steal the buttons, the collar, use the material for something else etc, so it's been kept.
But... with my persistent nagging, teamed up with the desire to clean, today was the day I got it! :)
I have mucked around with it a lot. New neckline, new size, added bust darts, ugh I've done everything. I might as well have just started out with a piece of fabric! It probably would have been easier actually!
Anyway this is my new dress.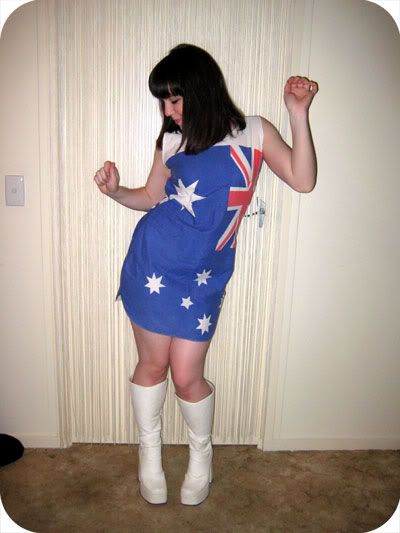 It's exactly what I had imagined.
An Australian version of the union jack dress. Very very 60's, and perhaps very very 90's aka Ginger Spice.
Anyway I love it. My only concern is that I'll be mistaken for a crazy patriot going to the cricket. But we'll see. I wonder what the reaction will be from others.
I am imagining Occa's yelling Aussie Aussie Aussie out of their windows. Hmm.
I can't wait to wear it! Uh not with the boots though. I just put them on to play!
Thats all from me.
Have a lovely weekend! :)