Yee.
So I just got a call from Mum and she had a horrible smug tone in her voice.
Being a Sunday (Market day) and the early phone-call teamed with the tone, I just KNEW she had picked up something that I would want.
She went to Frankston Market, and got a pair of Vintage Tortoise shell Raybans in unused condition, in original case for $10 I went over all the details with her on the phone to rule out if they were fake, and they're not.
Even though it can be seen to be 'uncool' to wear wayfarers now, as they were killed last year since every shop down to petrol stations were selling them, I don't care. I love them.
"I was going to put them in your Christmas stocking but I thought, Um - NO. I want them" She scoffed.
Mum felt my jealousy coming through MY tone on the phone, which started to make her go Loony. We love hurting each other with second hand finds. There's no better gratification.
I had to convince her into giving them to me, as I've been keeping my eye out for tortoise shell ones as I only have black.
Anyway, I FINALLY manipulated her around.
I figured the whining wasn't working, it was just making her more happy. So I went back to the Christmas theme.
We're not doing new stuff for Christmas this year, we're just shopping second hand because we don't like new things. I've said before that she knows my taste perfectly, so I know I'll get some amazing things.
Every year, we always get main present and a few little ones.
So this year, I bargained with her asking if can they can be my 'main' present because I'm not getting a main present this year. Worked a treat.
"I knew you'd con me into giving them to you!" she said! haha.
I feel a little bad because I think she's already bought me heaps. But my Mums like me, we do what we want. If she didn't want to give them to me she wouldn't. I only nagged because she let me. :)
Hooray.
Anyway, today I went to a Bundoora and Greensborough market, and a few Sunday garage sales.
This is what I bought
'Japan' Money boxes. Not in perfect nick, but for 20c, I'm happy to touch up his nose.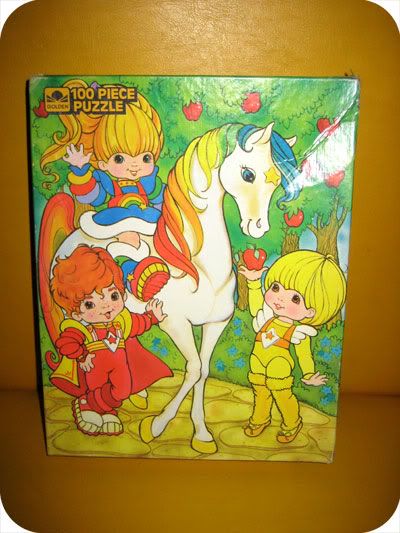 Rainbow Brite Puzzle complete. $1. I think she's the prettiest cartoon ever.
And a few jewelery bits and pieces, all $1 each.
Thats all :)