Whoo!
In every post I write, I declare a new true love.
Well todays true love is for eBay sellers who mis-spell listings.
Oh, I really really really do love you.
I know its kind of mean, but I do make up for my selfish buying ways by informing people of their spelling errors if I ever come across any with no bids, (on an item I don't want naturally.)
I have been wanting Michael Jackson 'Moonwalker' on Sega Megadrive for so long. It was one of my favorite games as a kid, and have been dying for a copy, but they're so so rare on megadrive, but everywhere on mastersystem.
The same day I was about to buy a megadrive game for $25, I found this 'Sega Master Systerm 11, Michael Jackson Moonwalker Game' yes 'systerm'
BADABING!
It's boxed, still with instructions etc.
There is one currently on ebay up to $71, no game, not boxed. Just the system.
I won my auction for $34.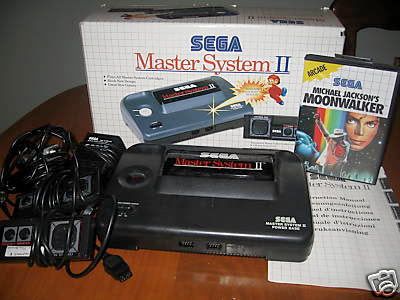 True love.
This is what I wore today...
Unfortunately, although I faked having the guts to wear the hat outside the house, the little nervous Trish deep inside kept saying "child of the 90's child of the 90's" and I just couldn't listen to her anymore. So I did ditch the hat. I was wearing a childs dress, and teamed with the hat, I felt like I was 5 years old again.
And since the 90's is still completely daggy, I couldn't quite bring myself to do it.
And here's my yesterdays outfit.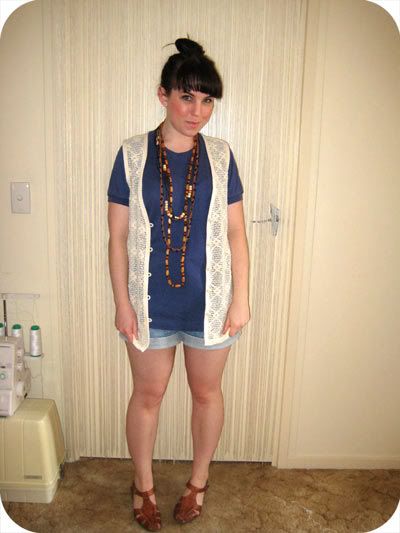 And this is what I bought today.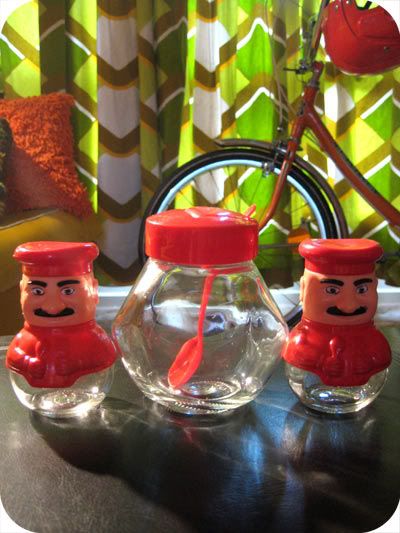 I thought it was cute when my camera's face recognition function put squares around their faces. Oh I love novelty s&p's. I think I'll use these ones.
On my way home from work, I pulled them out of the bag and held them up, and as I adjusted my focus, facing me a few train seats away was a man who could have made the vinegar bottle. I laughed.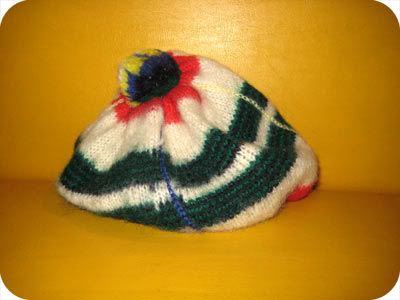 Cute beanie. Summer is the best time to buy winter gear. It's always super cheap, and you find great things because most people can't even imagine the idea of buying a wooley in summer.
I originally had an idea of collecting interesting bows to decorate my tree, but time was an issue, so decided to collect cute vintage decorations. I do think it is more me, as I love the cluttered look. Well the tidy cluttered look. I know those two words don't go together very well, I'll try and explain.
You know when you go into a house, and you are too scared to put your feet on the couch incase you dirty it? And when you look around and they don't even have photos up because it makes the place look messy. All they have in the lounge room is the basic items, a rug, a massive reproduction print on the wall, some vulgar decoration, and the rest of the few items in the room are so symmetrical you would bet they measured distances. 'modern?' There isn't a thing on the mantle piece, no one has eaten in there in their whole life, the remote has a special place where it lives, and you always feel the need to whisper.
Well I'm the opposite. Don't get me wrong, I don't live like a pig, although its debatable tonight, but generally my tons of everything has its special place, and is kept neat and tidy so its not clutter. Organised clutter is a saying I've heard before, and I'm happy to put myself under that umbrella. So yeah, I can't imagine having a tree with all matching decorations. Its just not how I work. I'm one of those people who will have tacky decorations my kids made at primary school all over the tree, and love it. I think its the way trees should be. No ikea tree for me!
Well that was a massive paragraph about not much! haha.
I love Santa. How friendly do the old fashioned santas look in comparison to the over cartoonised versions of today.