I am sitting here watching 'New Inventors' grand final on ABC and they brought out Rolf Harris, inventor of the famed 'wobble board'.
I was in suspense waiting to see if he'd sing his tie me kangaroo down sport song that he was most well known for.
He started to sing a part I didn't know, and was slightly disappointed thinking it wasn't it. Then as I was taking a swig of Pepsi max, he changed tune and started to sing the song that is associated with my 'most embarrasing moment' I did some kind of internal laugh that made the Pepsi bubble up my nose and feel absolutely disgusting.
Remembering in primary school, when the whole school was in the library (country school) on a wet 'playtime' and we started doing sing-a-longs.
One of the favorites was 'Tie me kangaroo down sport' Everyone got into it.
Perhaps me a bit more than everyone else.
After the chorus' Rolf goes "All together now" and then sings the chorus again!
I must have been so involved in the song, because when the song had finished, I was ready for another chorus and screamed ALL TOGETHER NOW! However there was no backing tape, no one else singing next to me, I was all alone in my land of boogie.
I was SO embarrased.
Perhaps not as embarrased as Rolf for ever recording this verse.
"Let me Abos go loose, Lou,
Let me Abos go loose.
They're of no further use, Lou,
So let me Abos go loose.
Altogether now!"
Anyway, at work today, my boss made my day by offering me some of her retro collectibles. They don't suit her new house (yesssss) and would rather them go to someone who will love them than have them packed in a box.
Ellen emailed me a photo of them...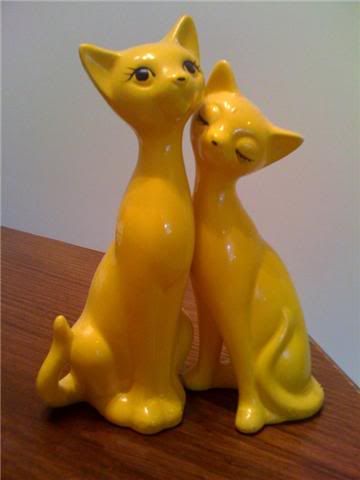 Yeee!
And just a reminder, the movie 'Candy' is on SBS tonight at 10pm!
If you haven't read the book..... read the book. It's even better!
Oh the tears will be rolling at approximately 11.30pm.