Download, wipeout, or hole in the wall... gee what tv show will I choose? I want to see all of these amazing, genius and nail biting shows but unfortunately they overlap. Whatever will I do?
Has anyone actually sat through more than 5 minutes of these shows? How are they possibly still on air?
There is NOTHING on television tonight. I think I'm going to curl up in bed with a book tonight. Much better than numbing our brains with game show host voice circling around our heads. Shudders.
Though Collectors is on at 8. Thank god for something good.
Anyway, this is what I wore today,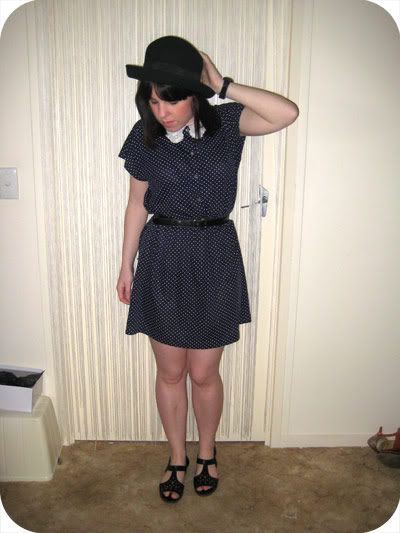 I got inspiration from my friends Dad of all places, he knows me as 'Trish with polkadots' (or something like that) and the only polkadot thing I own is this dress which I used to kill a year or two ago. And haven't worn it in months and months so thought it was about time I brought it out again.
Ps, I know... Black and Navy is a no go zone, but oh well, I always do it.
Denim on Denim however is a place much worse I believe.
And this is what I bought.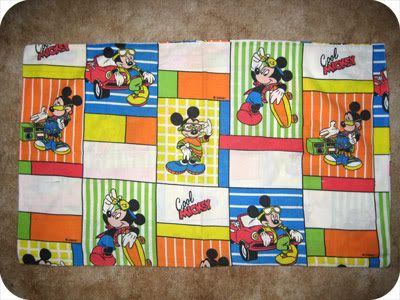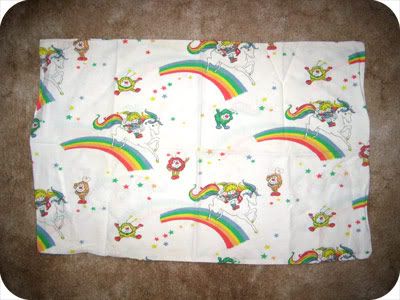 Savers was horrible today. Prices were wacky today. Drab nanna dresses were like $17.99 or something, with 'vintage' items being over $30
There was a west Germany vase or two both for around the $40 mark, which is all they're worth. Not a bargain to be found, I was very upset.
But then I went to the pillowcase section, another one of my collections, and came across a rainbow brite and a mickey mouse pillowcase. $2 out of pocket and I was happy.
I don't think I'll be going back for a while though, I was eye bulging constantly!
They must have new pricers or something because as someone who goes at least twice a week to the same place, I can tell when items go from $5.99 up to $17.99
Yikes
Just the other day my super good canisters were what, $12? or something and now crappy damaged discoloured white ones were over $22 or something. Sad.
Anyway thats my complaints haha. Dinner time :)