So a while ago, I watched the episode of scrubs which starred Mandy Moore, where JD didn't like her because when she found something funny, she wouldn't laugh she'd just say "That's so Funny"
Anyway, I got all 'OMG I DO THAT' when I watched it and realised that it was a negative thing so have been completely self conscious of it ever since.
I still can't stop saying it though. "thats so funny, thats so funny" all the time to everything. I think its because I'm self conscious of my laugh.
ANYWAY... my brother came over tonight, and as we were watching 'Balls of Steel' he says, 'You remind me of someone. You know that episode... (blaa blaa blaa)'
He then went on to say that I've said it 5 times in the last one skit.
How horrible! Is it really that bad? I mean there's a whole show about it! Ahh!
So today I had planned on going to Brunswick to meet a friend, but half way there it got canceled so took a different direction and headed out to Ringwood.
I hadn't been there in ages, so met up with my friend Shannon and hit up the op-shops.
Oh how I've missed the Eastern Suburbs.
They're always so kind to me.
This is what I wore...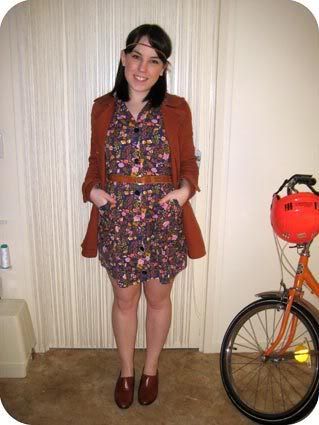 And this is what I bought...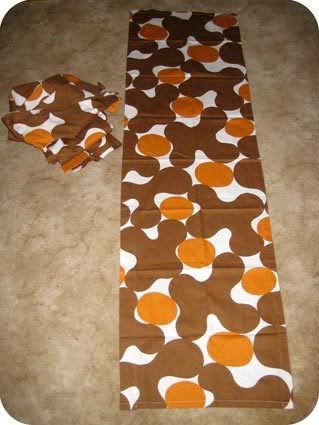 These were in the place mats box. There are 8, and they're huge. I assumed they were table runners but it appears they're curtains. But 8 of them? I'm assuming they're for a cafe or somewhere? Rad material anyway.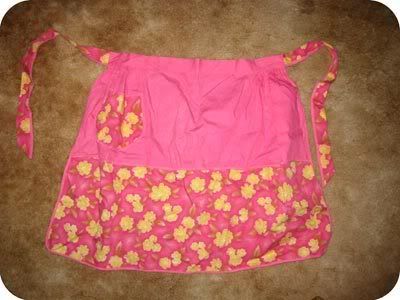 Apron
When I thought about my reasons for buying this garage sale sign. I got a little nervous. I bought it for the time when I 'one day' have a garage sale.
Now if I analyse that reason, I see a glimpse into my future where I am surrounded by used medicine bottles, old newspapers, kitty litter, and expired telephone books because 'one day' I will need them. Haha.
Is buying things for 'one day' the beginning of hoarding? I'm scared. I like the sign though :S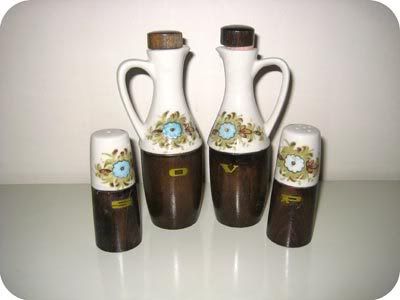 Set of salt & pepper shakers, oil and vinegar.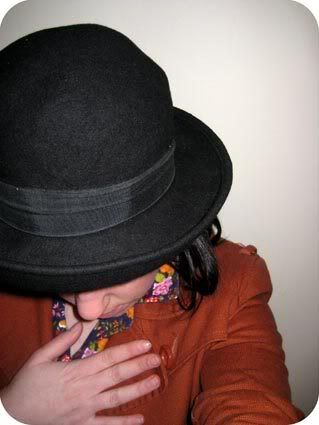 Felt hat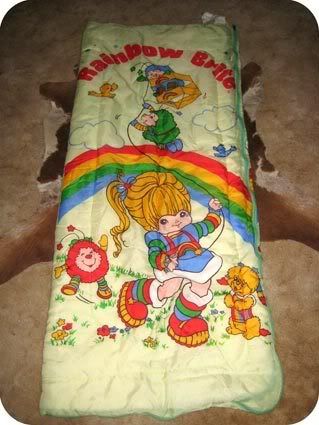 Eee. I have a small collection of Rainbow Brites. She's such a childhood love. Anyway I picked up this sleeping bag. She's so pretty.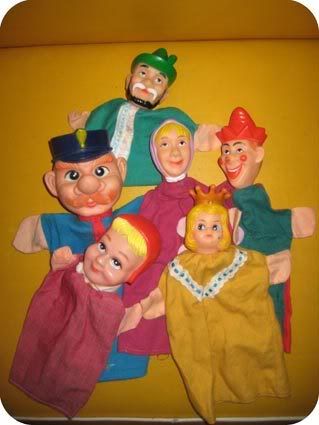 And these. My grandma had a set of them in her toy cupboard so got all excited when I found them sitting on a shelf. Aren't they the best?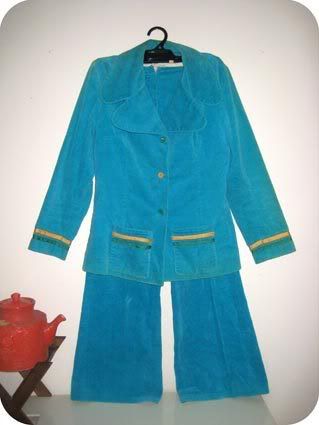 For AGES I've been on the hunt for a vintage flared suit. And today I found it.
It's not in fabulous condition, but it fits me perfectly, and the tag has the Mary Quant style flowers on it. I do love it, and it was cheap so I couldn't just leave it there even if some of it is a bit faded.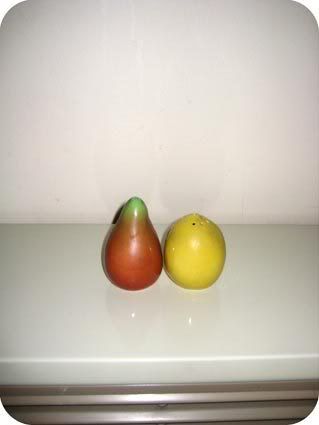 Last of all is this set of pear and lemon salt and pepper shakers.
Night everyone!