At work, we always discuss at work how distorted our views on things are compared to the rest of the world since working in the costume shop.
You could say we're blind to all things strange.
We regularly find ourselves half way through having a lengthy deep and meaningful conversation about vampire teeth, . Which we find amusing when we compare it to other work fields who may discuss how to fry fish, or cut wood, or if peoples sales numbers are up.
Anyway, what got me excited today was that my specially ordered liquid latex had arrived. 500 mls of gruesome goodness. All day I looked forward to having a play when I got home.
I've had more lengthy deep and meaningful discussions with my boss Ellen about best ways to make my neck look the most decapitated (See, a very strange workplace) And we figured liquid latex was the best way to do so.
This is what I did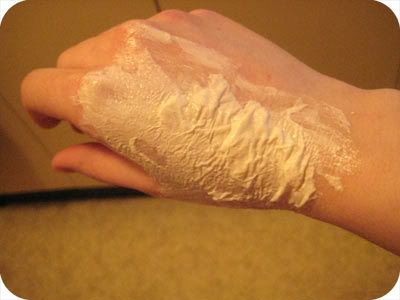 First of all I put down a layer of latex (which goes on white and turns clear) and then a layer of torn up white tissue paper. (You can choose any colour tissue paper, I'm painting my face white so I used normal tissues.)
I did this process twice so I got a nice thick layer, and made sure I blended the latex past the paper and into my skin so the layer looked well blended.
I then started to peal back a gash like valley through the tissue paper, creating a dam like barrier to hold the blood.
I painted a bit more of my hand white to blend it in more. The gash is heaps bigger here too.
Next step was to fill it with blood. I don't have much to practice with so I went easy. I'm also didn't want to open my 'one time only' face paint packet until the day which had black and blue face paint in it, which would mix well with the red to create darker hues and a more realistic blood.
Um
So I raided my cupboard for anything I can substitute for dark blood. Unfortunately I didn't have any oyster sauce, so I mixed some coffee with it and it actually gave it a nice gravelly effect. Next time, I have some gravel stuff, and fake stitches that I'll add to the blood to make it look better, but again, didn't want to waste it on a trial.
Anyway, that gave me an idea of what to do next time.
Next time I'll separate the tissues into two layers and do more coats, with less thickness which will stop it from going as bumpy.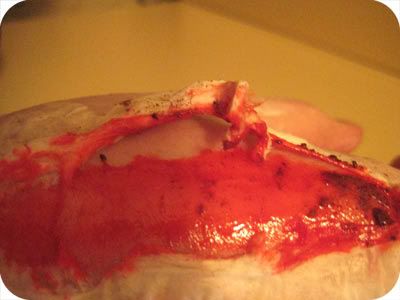 And then the fun began.
I thought it was fun to peel PVA glue off my fingers. Well, imagine doing that, off your whole hand. Dreamy.
So yep, that was experiment one with latex. I'm even more excited for Halloween now.
If anyone has any tips I'd be glad to hear them. I've youtubed it a bit and there's some great examples, however when professionals explain anything, they make it seem so easy because they're around it all the time.
Like the TV show 'Art Attack' He made out all his things were so easy to do. But no. My things always turned out a mess. Sigh.
Oh and this is what I wore today :)