What a vision I was today.
Imagine this.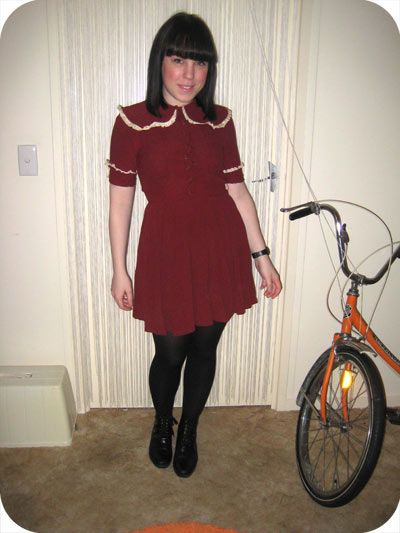 Me, with two big bags of opshopping on my right arm, my handbag that's strap is too slippery that it continues to fall off my shoulder so I have to walk with a semi tilt, on my left. The shoulder strap is also too long, and is at the same length as my skirt so continuously pulls it up. In my left hand is a big painting that I bought today, however on my journey the backing brown paper fell off and so that is rolled up in my right hand. I have not another place to put a thing.
Then, the handle on the painting snaps. Cool. So now I'm walking even more awkwardly. Then my bag catches on my ipod cord and rips it out of my ears so I have to stop and reorganise myself.
THEN if it couldn't get any worse, just as I get around the corner from my house, the young boy who lives infront of my house comes to chat (as he regularly does) and quietly lets me know that my skirt is tucked in. I assumed it was from my bag riding up, but no. I never check the other side because I don't wear my bag there. It was fully tucked into my stockings from when I went to the loo perhaps... an hour before that? I'm completely serious too! How embarrasing!
FANTASTIC!!!
What a day.
It's so good to be home.
This is what I bought.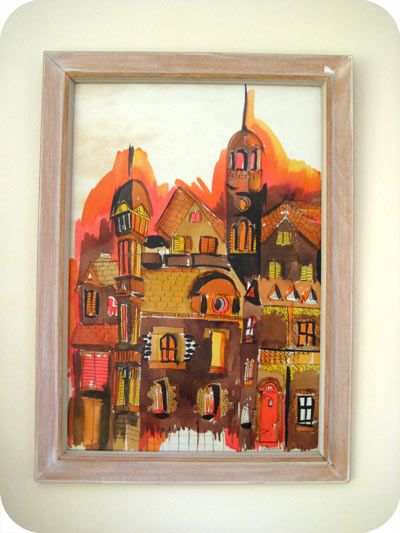 This is a handpainted watercolour signed Catherine Ford '67
I tied some wool that I doubled over to use as the new hanger on my painting.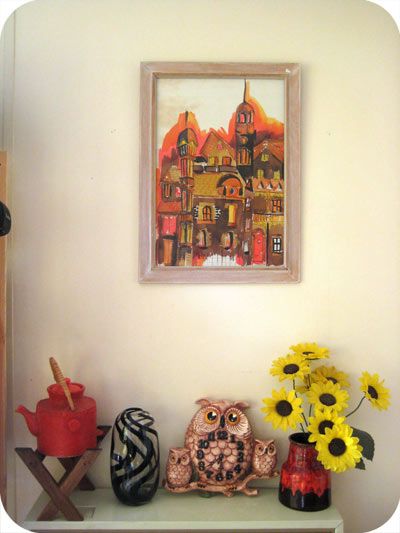 How nice does it look above my heater? I'm loving that little corner now!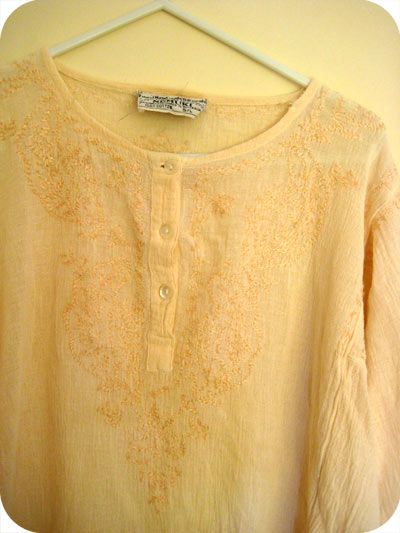 This Indian hippy blouse
Woven bag with bamboo handles.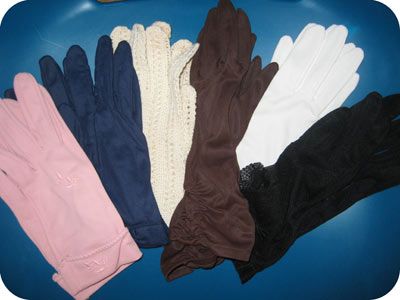 That morning someone had donated a heap of vintage gloves in perfect nick. 50c a pair I swiped up the good ones. It's hard to find good vintage gloves
Most of the time when you buy them they're either
- Tiny
- discoloured
- stained
- falling apart at the seams
But these were impeccable and elegant and lovely
These were by far my favorite pair.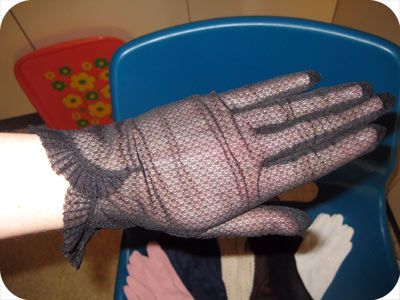 Hooray, tan leather sandals that won't kill my toes!
This little furry brooch. It's pretty light and won't be worth anything. Pft for all I know it could be something from Diva. But oh well I like him anyway.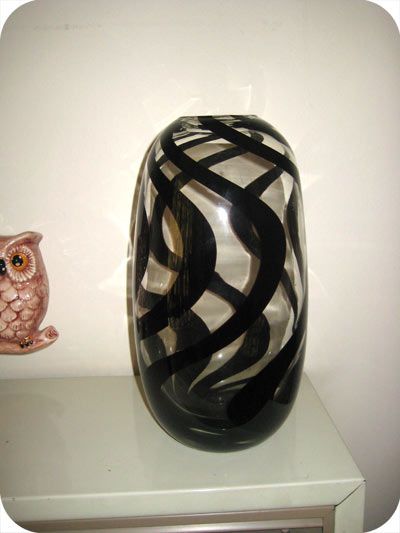 And this is my favorite item. $3 and its REALLY heavy glass. It's been blown as there are no seems and it is slightly irregular. It also has the part on the bottom where it was broken off the blowy stick thing (I'm great at using correct terms can't you tell?) So yeah, I'm fairly sure I've seen something similar in one of my books before so I'm off to research.
I also bought a fair bit of stuff to sell. Pleaaase send some motivation my way to put things onto ebay.
Tonight I'm off to spotlight to get some more trimmings for my costume.
It's 20% off storewide until 9pm tonight!
Omgosh... I nearly forgot the most important thing.
Mum went shopping today too and found me a mesh Oroton bag, and AND ANNND a vintage chanel bag. ZING!