I have discovered - too late, that having an open packet of cheese in the fridge is the worst thing in the world.
Every time I'd go to the fridge, "Oh just one more bit"
Fatty boombah Trish is coming. *Typed as she scoffs a mini tea cake* A really good tea cake. I baked them yesterday. Mmm cinnamon.
Anyway, this is what I wore today.
I told you I would live in this hat if I could. I LOVE IT.
And this is what I bought.
Vintage Flower power aluminum? trash can.
Mens vintage safari suit, not really my style haha so I'll either hoard it to sell for later, or sell it now, still undecided.
There's one safari jacket and non matching pants in the new carters guide for I think $100? Rad.
How fantastic does it look on the hanger? Ugh, coat hangers make clothes look horrible.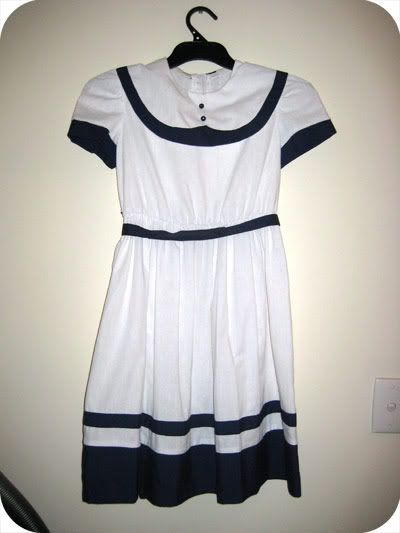 And this is the dress I'd been hanging out for. I bid on one similar on eBay for $50 and lost the auction. It went for well over $100. It showed to me that I really wanted a sailor dress, as I never spend up big on clothing as I enjoy waiting until I can find one myself for a couple of dollars. And then today I found this. FATE! It's vintage (Either 60's or 70's going by the tag) and size 10 but looks like a girls dress. So so adorable. I plan on wearing it on the next hot day, but it seems that the hot days are only ever on the days I work, and when I wear clothes like this, or my kaftans etc, every single person who comes in says "omg you must have the best job, do you have to wear costumes every day?" I then have to fake laugh like I've never heard it before and hope they drop it. But if they're still waiting for an answer I say that its actually a part of my wardrobe and they get all embarrassed for asking and then its all awkward. Hmm. So yep. Looking forward to my first non working hot day!