Today was market morning.
I was very excited as I had never been to this market before.
My boss and I went to Bundoora/Thomastown market.
It was pretty strange. We arrived 10 minutes early and waited at the closed gate, and there wasn't another woman in sight! There were about 50 Italian looking men all around the 60ish age mark, hovering around the fence. We were very intimidated yet delighted as it was obvious no one would be looking for similar stuff that we were.
We had no idea what to expect. It looked big, and is called a 'trash & treasure' market, however all we could see were tools, and hear caged birds so we were a little reserved.
Anyway, 8pm came around and the 95:5 ratio of men to women flooded in and we found a route.
It was an interesting market. Not much trash & treasure, no families selling all their videos for $1, a ton of McDonalds toys, and piles of clothes that no one sifts through.
There was one or two antiquey vintagey dealers, and their prices were okay!
It reminded me a bit of Laverton market actually.
Lots of tools, goldfish, cheap asian toys, and my favorites, the stalls where grumpy old men go to the tip, and fill up old toyboxes of junk and bring it to market to sell.
All layed out on tarps, or chucked in any old box in no order what-so-ever is where I always find my favorite things.
One gold mine (not today) was a guy who had a box of vintage sunglasses deadstock. I regrettably only bought a couple. But it shows what scrounging through what appears to be old metal junk you can find.
Today was my best toybox find. Amongst old bike chains? I think they were bike chains, and a couple of cameras, and an old old old tv remote, was this...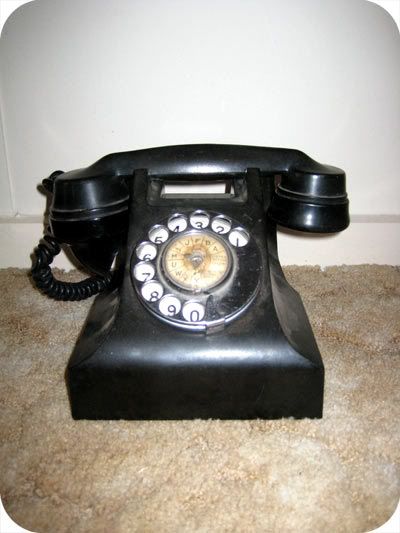 Its a 1950's Bakelite telephone. The dial's plastic cover has been opened, but I can easily get another whole dial from QLD for $18 so that's no problem.
After a good clean it'll polish up to be a gem.
It cost me $15 Bargain!
This is the other phone I bought. It was on a ladys table who had lots of nice things, but I think it was items from her personal belongings, and maybe some of her kids old things. I dont think she was a collector. Anyway this phone had $20 on it, and I am 50/50 on if I have seen this in a book or not.
Well no. I have seen a see through light up phone that looks identical in a book I read maybe a year ago? And I believe its price was around the $300 mark. But I can't remember it's brand.
So I bargained with her and surprisingly got it down to $10, and figured, if it isn't the one in the book I saw, I'm at no loss because it's a rad 80's phone anyway and will increase in value at some stage. And if it is the one I saw, then SWEET!
That's all I bought. Oh no I bought a lighter for my stove haha.
So yep, I was very pleased with todays finds. And more pleased because I have something to research. Very fun.