Today Mike and I went Opshopping.
This is what I bought...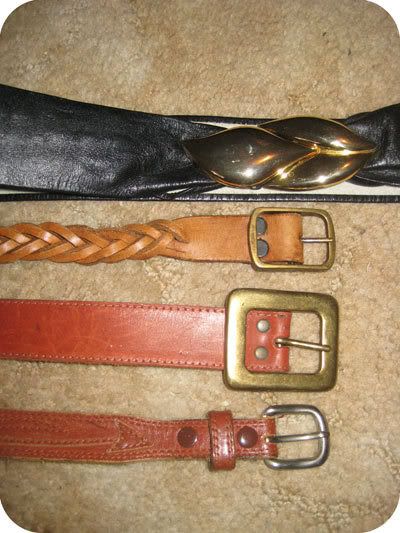 Leather belts 20c each
I can't categorize this blouse into an era. It seems 90's, yet also 60's? I don't know. The tag says 'bardot' but the font is retro, and so are the big daisy buttons. But the fabric and cut seems 90's. Ugh I don't know.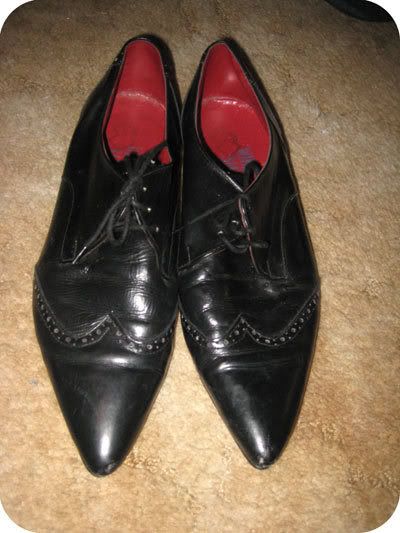 These winklepickers are fantastic! This has now made me even more fussy when it comes to the dream man, as ontop of all the other credentials they must have, they must also be a shoe size 8. I have no hope of ever finding him haha.
I love history behind items, and the writing on the bottom makes them even more exciting. They cost me $1 by the way! Yeowww!
And last of all, thanks to Mikes sharp eye he spotted this boxed super nintendo in the window with a price tag of only $15. Snap. Mine.
I felt kind of bad, because the ladies were saying that a man came in looking at it and went home to ask his grandson if he'd like it. He obviously wasn't counting on a Trish walking by!
Also included was an extra controller and the game basic instinct. What a steal. They're on eBay for heaps. So I'll hold onto it for another 10 years or so and make a healthy profit.
I'm now on the hunt for Mario Kart. I've never ever ever played it, and if you remember that tv game show A*mazing? The kids always sucked at it, and we all knew we could get more coins if we could just have a go. We also knew we'd find the special game-boy key if we didn't spend the whole time pulling all the letters out of the mail box. What a time waster!
Anyway, yeah. Mario Kart is going to fill that void that's always been there. Haha.
For an 'A*mazing' memory flashback, someone has gone into scarily precise detail of the maze and the games. Rather interesting
http://en.wikipedia.org/wiki/A*mazing