I'm really disappointed with my new microwave.
For a long time I've been the person who waits at the microwave waiting for the last few seconds trying to beat the microwave from beeping by cutting it out the second it goes from one second to zero. But my new one has changed. The beeping doesn't cut out, even if I open it half way through the beeps. It keeps beeping.
Similarly my disappointment lies with the atm's where it beeps at you when the card is spat out and every time you wait there with your fingers against the card slot waiting for the first glimpse of card to grab it before it starts beeping. Even though it would always beep a little bit but it didn't stop you trying to stop it.
Anyway, now they have these super slow spitter-outeras, preventing the tiny rush you get from a good card grab. Hahah
What is this world coming to?
Its cutting out all my little kicks.
Anyway, this is what I wore today
Its one of those really staticy dresses that get so staticy it looks like you're wearing skants/culottes.
Anyway I was in my bathroom lifting up my dress and spraying my legs with hairspray (supposedly helps stop static) and I look up and see the builders next door looking in.
I always seem to have the worst timing/luck with things.
The hairspray didn't last long. I was back to culottes dress within half an hour.
But what I did find work, was rubbing anti static hair cream on my legs. It worked a treat!
ALSO, I don't know if its dangerous or not, but while I was still staticy, I had my ipod in my dress pocket and twice I was electrocuted in my ear.
Not like a little quick zap like when you touch someone, it was a couple of seconds or something until I literally pulled the plug out of my ear.
And yes, silly me put them back in and it happened again. :( So I had no music for the rest of the day.
Anyway this is what I bought today.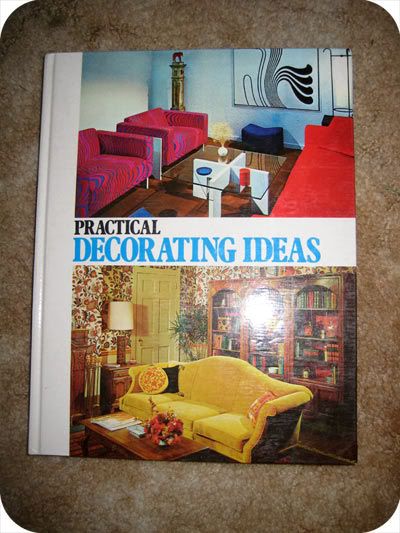 This book is 130 pages of 1970's home decor. I loveeee this.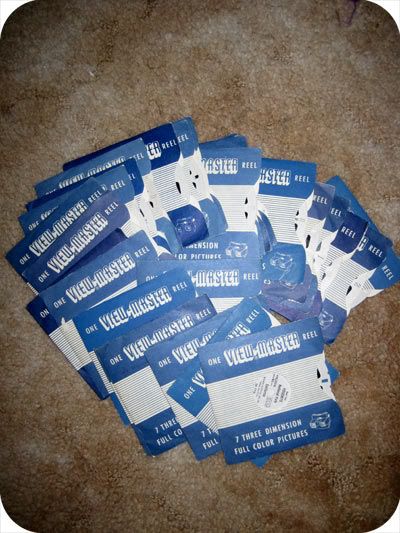 View master slides, there are heaps of them. Cost me $3. BARGAIN!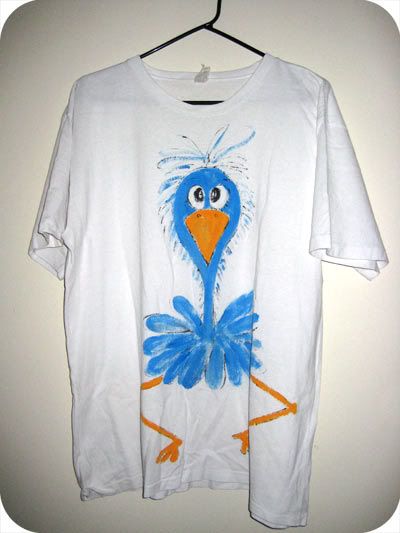 Another whatever tee that I got for free because it has a completely washable stain on the front!
Cute enameled apple pin
A great embroidered top with greaaaat sleeves. $1 in the dress up box.
Cotton tie die pants. Slightly too small, but a great find. A goal item haha. $5.75
And, last but not least, yesterday I bought something I've been eyeing them off for well over a year. I've ordered their fliers, enquired about them, asked about importing them from china etc. But yesterday I went and bought a badge/button/pin press.
I'm beyond excited.
It'll hopefully arrive by courier by the end of the week.
I've already got a stash of vintage pictures to make with them. I know its not exactly the most original thing in the world, but I'm excited about it.
I'm really big on personalised things, I have been since I was little, so I look forward to seeing what I can create with it.
Anddd this is what I wore the other day but didn't post a blog that day so thought I'd chuck it in here.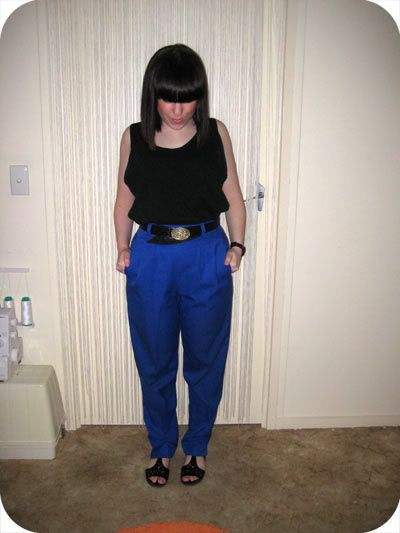 And how good does my tonights dinner look?
I'm full as a goog and just looking at this pic makes me want to eat it all over again haha.
Massive blog. Hope you're still awake.
Niggght.