Does anyone recognise this image?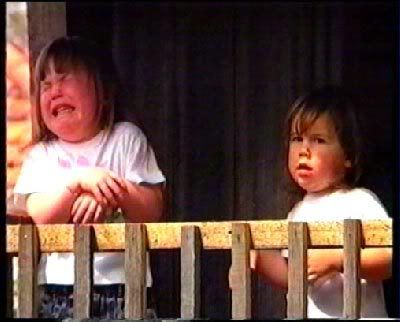 It's a screen shot from Funniest home videos.
The poor distressed girl on the left is me, and on the right is my sister.
When we were little my Nan sent in a video of me being smashed by my little sister to Funniest Home Videos.
Anyway, last night when I was on the train, I get a call from Mum all excited, letting me know that she was watching the show and our video came on again.
It's also been played the previous two weeks too, so there's a chance it could be on next week.
FANTASTIC!! haha.
Definitely my claim to fame, or perhaps shame?
Check out my face!! I'm such a pretty crier.
I'm sure you would be the same if your sister threw your tea set that you had just neatly laid out off the cubby veranda. Poor Trish haha.