Today; for the price of a movie ticket, I bought all of this.
Set of four milkshake glasses - 50c each
Bunch of beads and leather head bands - $2.50 lot
The front cushion - $1
Apron - $2
Swatch watch 'Don't be too late' - $1
Cute dress - $2
Another umbrella because yet again I decided not to bring one with me on a rainy day. Clever.
Hornsea set - $1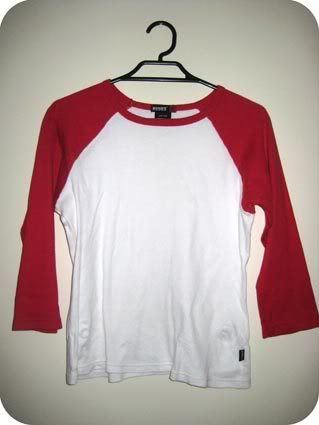 Basic bonds baseball tee. - 50c
And my favorite item of the day... Rocky and Bullwinkle 'Boris' Tee. - 50c
When ever I tell my mum about the things I have bought, I always get the same concerned line "Oh Patricia, watch your money!!" I just roll my eyes, because yes, I do buy a lot of things, (or rubbish as Dad says) but I don't spend much at all.
Some people spend that on cigarettes each day, so I don't feel guilty. And I still manage to save at the same time.
I'd much rather spend money on a fun day of shopping, that will continue to make me happy for a long time, than sit in a movie cinema for a couple of hours.
So I'm very happy :)
Also, my friend Dani has introduced me to Flickr. Another addiction is just what I don't need, but anyhow, there are some various photos up there if you wish to browse.
My URL is http://www.flickr.com/photos/trishhunterfinds/