You know when you plan future scenarios in your head, even though you know that when it actually happens, it will never turn out anything like how you planned it?
Well a classic example of that happened to me last night.
It was a friends birthday, and I was left in charge of making the cake.
I decided on mini cupcakes.
And since I only recently invested in an old fashioned piping set complete with all metal accessories that makes those cute little designs you see on all the flash cakes, I was more than excited to do it.
I had such huge visions.
I had been looking at cake decorating books, and had a whole theme planned out.
It seemed so easy. I had all the tools I needed, all I really had to do was fill the equipment with the icing and pipe it on in the design I had planned.
Easy.
So that night, I baked my mini cakes, which turned out better than ever!
Everything from then on went down hill.
The purple colour I expected was more like a grey lavender.
I added a ton of food colouring but it wouldn't change. So I just lived with it. I filled the metal piper with the gross coloured icing, but I couldn't get the lid on.
My hands got covered in icing during the process.
Then when I finally got the lid on, there was something wrong with the pressure and nothing would come out no matter how hard I pushed.
So I messily transferred all the mixture to the piping bag. However, I didn't insert the nozzle before hand, so I had to try and put it in afterwards. Smart.
After finally getting that all in place, I was ready to pipe. As I started to move the mixture down the bag, I noticed the bag was oozing, and a greasy purple liquid was coming through the sides of the bag. I think it must have been from the butter or something. Eew it was gross.
I continued, until finally, something came out of the nozzle.
It looked nothing like I imagined. Instead of these beautiful well shaped rose like blobs (see shape 4), squiggly uneven gunk came out.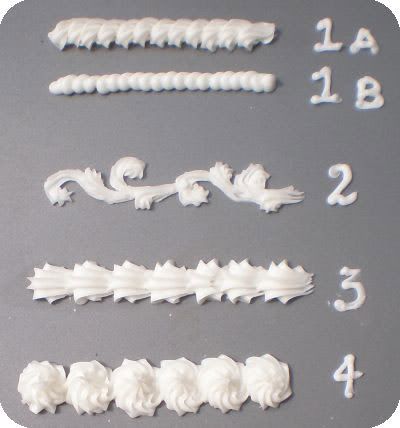 Devastated.
I thought maybe I have to push a bit harder to get a more even amount. But instead the nozzle fell out and a massive blob filled the cupcake top.
Fantastic!
So I proceeded to do massive ugly grey lavender blobs on all the cakes, and then gave up.
The kitchen was a mess.
There was icing EVERYWHERE.
And when I put everything in the sink, I caught a glint of purple and realised my whole hands were stained with food dye.
So rushed to the bathroom and scrubbed. It all came off thank god.
Here is the end result.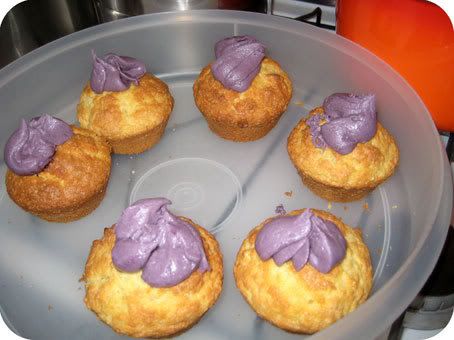 If you see to the right, one of the cakes has little squiggly bits still visible underneath the giant purple poo.
Look how easy they make it seem
Stupid piping.